Matrix Login System v1.0
A PPE BY VIRTUAL KILLER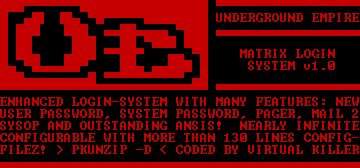 This is our approach to one of the most complex PC Board replacements: Login. This Login Matrix has everything you ever wanted:
internal pager and chatter
internal messageeditor for comments to sysop
internal NUP and SPW
local password screens
no keyboardstuffing on the newuserprocedure
if a user is validated he will get the SPW from the matrix
infoscreen in front of the matrix (like the paranoia login)
blacklisted users with reasons in the pager
blacklisted callerids (ISDN)
fast login / normal login / newuser login scripts
reads blacklisted users directly from the trashcan file defined in your PCBOARD.DAT in PCBSETUP
checks by PCBOARD.DAT if the board is a closed board and will disable newuserlogins
can call up to six PPEs directly after newuser application
all internal things can be disabled (pager, chatter, nup + syspwd)
random welcome display files
INTRO.PCB for funny things like a QUEMM error message (just delete if you don't like it)
lots of fading and other things, nice gfx from various artists (not ripped!)
more than 140 lines of configurability (you don't need to change everything, just for the 100% configurable freaks around the world)
no bugs (we did some beta testing)
Some screenshots:
Main login matrix screen:


Internal pager:







Click here to download the release.


This site was created by Bad Peon of Underground Empire.

This site is under permanent construction. Please bookmark and link this site now!