UE User Info System v1.0
A PPE BY Bad Peon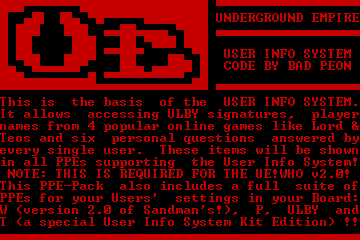 This PPE is one of the biggest projects in the PPE history of Underground Empire. It adds features to PC Board that no one has ever seen before. These PPEs are dealing with one of the biggest problems when running a BBS: Users are not much more than anonymous entries in your userbase.
Therefore, i decided to make PC Board more user-personal. Now you will know more about your users than just what their name is and how many files they have been trading.
You get the possibility of six additional data fields in your Userlister, Who is online and Write Settings. The fields can be anything: e-mail-address, homepage, own board, hobbies, opinions, prefered music, beer, pizza, whatever.
And as online games do a good job about making a board more personal, all User Info System complaint PPEs also display the player names from four popular online games: Legend Of the Red Dragon (LORD), LORD 2, The Exploration Of Space (TEOS) und Jedi Knights.
Uploads are also a way to participate in a BBS, so all User Info System PPEs support the ULBY.DAT from most common upload processors.
Since you need some place to install this PPE it comes complete with a full set of users'-settings PPEs (W, ULBY, T, P). And to make your users answer these questions it also has a PPE called FORCE.PPE that makes your users answer those questions ;)
It comes complete with a installation PPE that helps you with everything.
This is what it looks like:

Hint: DO NOT sort your userbase after you have installed this! You can change your users' names and anything within their userdata as long as your users remain in the slot where they entered their data!



Click here to download the User Info System 1.0.
Click here to download the User Info System Userlister 1.2 or here for more info on it.
Click here to download the User Info System Who Is Online 2.1 or here for more info on it.