PC BOARD MODDING
PC Board is the best BBS software around, even though it hasen't been updated
for a quite a while, a natural side-effect of its commercial developer's bankruptcy.
Here you find the right stuff to modify and tune your PC Board setup to your needs.
If you're lucky enough to own a copy of PC Board, that is. If you run PC Board you
might also be interested in our collection of y2k fixes and glitches.
UE!PCB Filebase Checker v1.0
[ DOWNLOAD ] [ INFO ]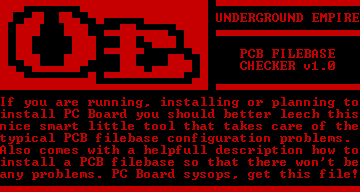 UE!Slimcomment v1.0
[ DOWNLOAD ]






Enter&Comment v1.0
[ DOWNLOAD ]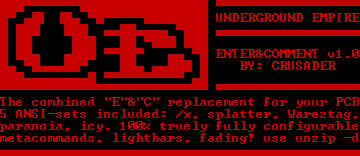 PCBoard News-Letter #2 (german language)
[ DOWNLOAD ] [ READ ]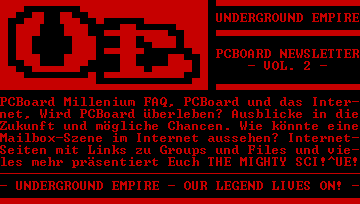 UE! GOODBYE v1.0
[ DOWNLOAD ]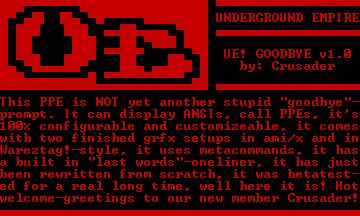 Upload Dizzy v1.00
[ DOWNLOAD ] [ INFO ]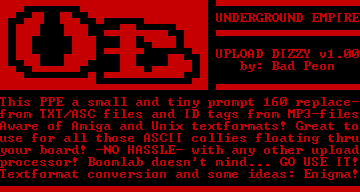 Automatic Filesend 4 Matrix Login
[ DOWNLOAD ]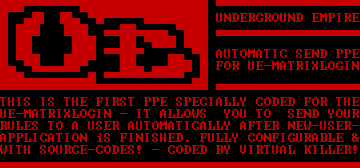 Matrix Login System v1.0
[ DOWNLOAD ] [ INFO ]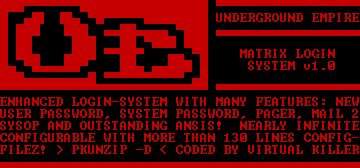 200th Anniversary Release
[ DOWNLOAD ] [ INFO ]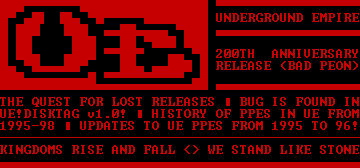 UE!DiskTag v1.0
[ DOWNLOAD ] [ INFO ]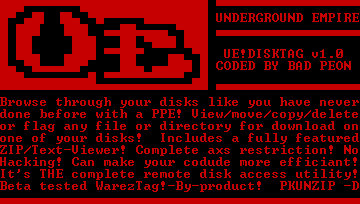 UE!Free v1.0
[ DOWNLOAD ] [ INFO ]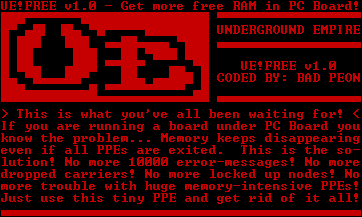 UE!WHO v2.1
[ DOWNLOAD ] [ INFO ]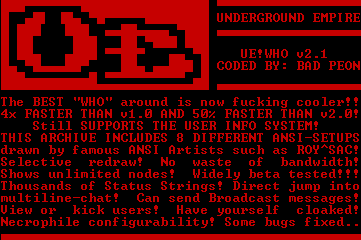 UE!Userlister v1.2 for UE UIS
[ DOWNLOAD ] [ INFO ]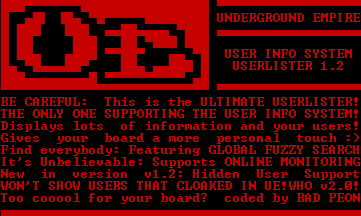 TWA User-Meeting-Door v6.66
[ DOWNLOAD ] [ INFO ]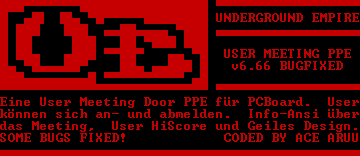 UE User Info System v1.0
[ DOWNLOAD ] [ INFO ]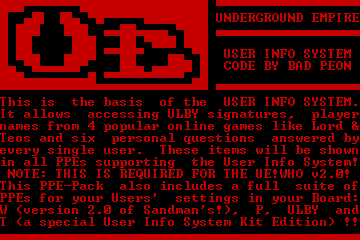 PCBoard News-Letter #1 (german language)
[ DOWNLOAD ] [ READ ]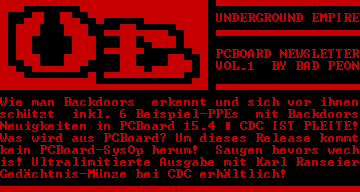 TWA "T"-Replacement
[ DOWNLOAD ] [ INFO ]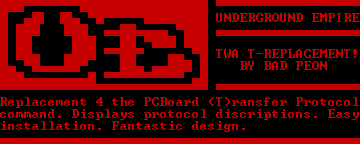 TWA Line-Monitor 1.1
[ DOWNLOAD ] [ INFO ]